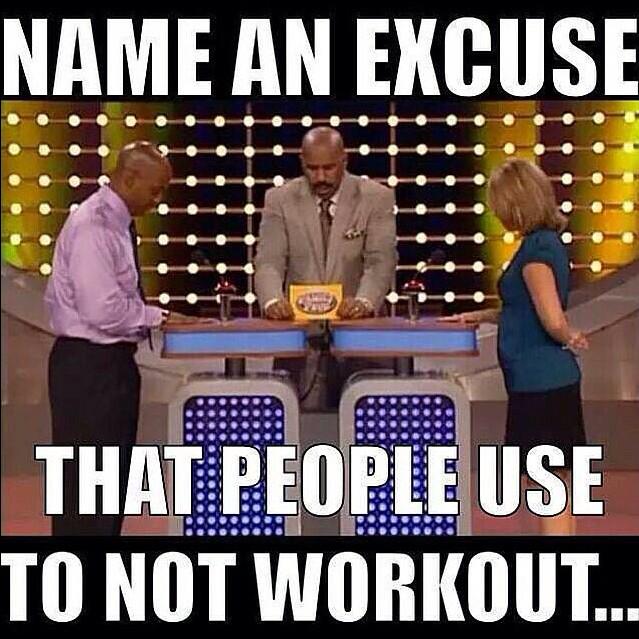 "EXCUSES EQUALS NON-PERFORMANCE."
That is what my Mom told me when I was a kid when I didn't do my homework.
That same principle applies to working out and eating right to be in the shape you want.
EXCUSES = NON-PERFORMANCE
Simple.
Excuses kill your progress and they will only stop your fitness goals from happening: losing weight, gaining muscle, building endurance, improving aesthetics, increasing body mobility and functionality, etc.
This is why you have to be real with yourself about things by setting clear priorities, being self-disciplined, and honest with yourself and the effort that you are putting in.
I'm not here to be Tony Robins and give you the motivational "pep talk" to get you off your ass and in the gym.
What I am saying is that EXCUSES KILL the shape and level of health you want to be in.
Period.
Saying things like…
I'm too tried
I had to work late
I had to do this thing for my friend
I'm too sore
I had to run errands
I haven't ate today
…are all excuses that lead to no progress and no results.
And, look. I get it. Sometimes things do come up that take precedent over working out or training, and you can't go to the gym and get your work in. I'm not talking about those things because most of those things that do take precedent, like a family emergency, a car breaking down, an injury, the storm of the century, etc., rarely come up.
What I am talking about are your EVERYDAY EXCUSES that you tell yourself to make you believe that it is "OKAY" not to go to the gym or just be physically active.
THIS IS THE PROBLEM.
This "PUTTING THINGS OFF" because of A, B, or C only leads to more and more of not doing instead of doing.
THIS LEADS TO POOR HABITS AND DISCIPLINE THAT MAKE CONSISTENCY – THE NUMBER 1 INGREDIENT FOR HEALTH AND FITNESS – ELUSIVE.
This results in no positive change and progress to achieve the health and fitness you want.
IF YOU DO NOT HAVE TIME MAKE TIME.
Cut the goofing off, looking at social media, watching TV, or whatever else you do that makes you procrastinate, and not workout and get the work that you need to get in done.
Structure your day better by organizing and prioritizing what matters and what doesn't. Block out a specific time that you need to work out. If you're really busy change your workout routine to circuits to be more efficient with your time instead of having 3 hour long workouts. Begin prepping your meals for the day, or week, to stop you from eating-out several times a week to avoid poor decisions and decision fatigue.
You have got to PRIORITIZE things in your life that lead to GOOD LIFESTYLE HABITS that make decisions like working out or eating healthy a "NO-BRAINER" decision because it's built into your everyday lifestyle.
Ultimately, if our bodies do not function like they should everything in our life starts to break down. If you have a job that makes you work 12 hour days and exhausts you maybe that is not for you. Or, maybe you need to be more disciplined with your time and cut out the nonsense so you have time to workout and eat healthy. Again, prioritizing and organizing is what matters, and it starts by cutting out the excuses.
We only have one body, so why not optimize our body to the best of our abilities to be in good health and shape that we want? There is no reason not to, so you have got to MAKE HEALTH A PRIORITY.
This will help our day-to-day energy levels, maintaining a healthy weight and metabolism, and decrease our risk of developing chronic diseases when we make OUR HEALTH a priority instead of an afterthought.
Do what you need to do, and get it done.
You can make all the excuses in the world, but, at the end of the day, if you do not put in the work that you need to do no results and progress will come.
The weight you want to lose will not happen.
The muscle you want to put on will not be there.
The level of shape and health that you are seeking will not be there.
To perform at our best our body demands good physical health. Pulling all-nighters and sacrificing sleep does not equal optimal performance. Neither does choosing fast-food because it is convenient.
And, listen…
I'm not saying you cannot get the work that you need to get in when you are tired or if you're surviving on a Ramen noodle diet. Based on the society we live in and lifestyles most of us have — fast-paced with a short attention span causing poor sleep, high stress, and unhealthy food — things like that become "normal". What I am saying, however, is that being consistently tired, not eating right and not being physically active is going to catch up to you eventually, and your body will suffer for it (me included).
For example, you may notice when your health starts to break-down you begin to experience abnormal things, such as brain fog, digestive issues, poor complexion, frequent colds/runny nose, weight-gain, muscle atrophy, and a host of other minor ailments. If not addressed and action taken to resolve or mitigate these issues, it will likely lead to significant chronic diseases, such as Type II diabetes, heart disease, digestive disorders, hypothyroidism, chronic fatigue, etc., quicker.
HOW DO WE STOP THAT?
We stop these things from happening by doing our best to minimize things that take away from our health as much as possible, and do things that build us up as much as possible.
It all begins by leaving the excuses behind.
Don't get me wrong. I have been there myself, and like everyone, struggle with issues that claw away at my health everyday. At one time, being severely overweight, I know it even more. I made all the excuses, and avoided anything fitness or diet related for the longest time. Mostly, because I was intimidated by the process of change, causing great resistance. But, once I started to be honest with myself and take small steps forward and accept the situation I was in things began to get better.
It did not happen overnight, but the more and more I showed up and cut the excuses the more successful I became at losing weight, gaining muscle, and improving my overall physical health.
It's cliché, but half the battle is showing up.
You have JUST got to show-up and good things will happen. If you know you need to go to the gym and do not feel like it do it anyway. Once you get your body warmed-up and going you will start to feel good.
I can say confidently that the best workouts I have had have been times where I did not feel like working out. What I did do is show up, and once I got started I hit my flow and crushed what I needed to do. That is why you need to stop making excuses.
In my opinion, you do not need motivation, especially to get started.
What you need is ACTION and the motivation will come after, and carry you far forward thereafter, breeding motivation to go harder and do better.
JUST SHOW UP and STOP THE EXCUSES.
Done.